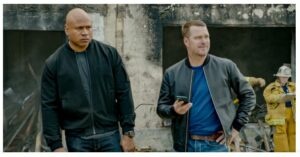 EXCLUSIVE: CBS is getting back on the dance floor with a non-scripted entertainment format from its own NCIS: Los Angeles stars LL Cool J and Chris O'Donnell.
The broadcast network has ordered Come Dance With Me (w/t) from the pair. The family show will be produced by CBS Television Studios and 3 Ball Productions.
Lip Sync Battle host LL Cool J, who sang "You Can't Dance" on his debut album Radio, and O'Donnell will exec produce alongside 3 Ball's Reinout Oerlemans, Ross Weintraub and Jeff Altrock.
The series will feature talented young dancers from across the country, who will invite one inspirational, and untrained, family member or other adult who has supported their dance dreams, to become their dance partner for a chance to strut their stuff for a grand prize. Each week, these kids will share their love of dance with their mother, father, grandparent or other hero on an uplifting and emotional journey to learn and perform challenging routines, with the assistance of professional choreographers, in a competition with other duos.